Psychological Military Thriller
Date Published:
June 23, 2017
It's just another day in Iraq for Guy, a young American soldier. But when he suffers a head wound in a car bomb attack in Baghdad his real journey begins.
As the blast sends him on a deadly odyssey through the very fabric of time, he finds the beautiful yet mysterious disappearing sand. But Guy quickly realizes things aren't what they seem and he may be witnessing his own destruction. With the reality warp tearing him apart, he has only his fading mind and a mysterious journal to help him solve the puzzle before time runs out.
His desperate search for an answer leads him to a single moment where everything hangs in the balance. Does this mysterious journal hold the clues to his salvation, or is it the ramblings of a madman? Can he figure out the mystery and save himself, or is the end of his odyssey written before his journey even begins?
Excerpt:
I will myself to put the gun down.
Why? Why should you?
I try to think of a reason and can't. Well, shit.
Have I been here before? I count the sands of time in my mind again. I have never been great at math, but this equation is simple— it comes out to zero. Time is up.
I never thought it would come to this. But when you are out of time, you are out of time. I know how I became unstuck in time; I just always thought I would find an answer, a way out of this nightmare, before it was too late. Guess this is one way out. I was hoping for maybe a happily ever after type of ending.
I take in one deep breath and hold it. My eyes slowly drift shut while my finger gently squeezes the trigger. The well-oiled hammer on the revolver clicks its way backward at a seemingly impossible slow speed. It's as if between the sounds, I can hear the slow ticking of a clock.
Tick tock, tick tock
, you are out of fucking time. An eternity passes with my eyes still shut.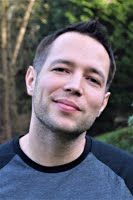 Seth Bleuer is an author and veteran who served combat tours in Iraq and Afghanistan. He currently lives near Seattle, Washington with his wife and kids, by way of the Midwest. When he's not reading or writing he can be found playing in the mud at obstacle races with his wife, Amanda. To see what Seth is up to check out his very originally named website
https://sethbleuer.wordpress.com/
or find him on Facebook
https://www.facebook.com/SethBleuerAuthor/